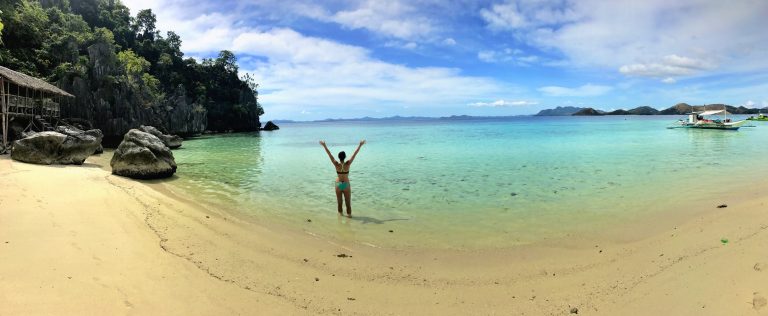 While summertime and winter holidays are popular times to travel, there are many benefits to traveling during the off-season. Peak travel can bring expensive price tags, overcrowded tours, and sold out flights and hotels.
Of course, often times off-season travel means that you're not getting the ideal weather for the location you're visiting – however, that doesn't mean rain or cold is going to ruin your trip.
To give you an idea of some of the off-season travel we've experienced over the last couple of years…we've traveled to Mexico City and Guatemala during their rainy seasons, Cuba during hurricane season, Tokyo over Christmas, and Patagonia at the end of their shoulder season (in between peak and off-season). Each trip was wonderful and I would travel to all of those places at the same times again.
So, what are the benefits?
1. Flights are cheaper. If you've ever tried to travel around Christmas you know you're in for spending a bit more than any other time of the year. Domestic travel in the United States around Thanksgiving is no better either. And summertime travel? Yikes. Traveling during off-peak times when flights are less full typically means the fare will be cheaper – especially when you're comparing them to the most popular times of the year.
2. Hotel deals. Going hand in hand with flights, many hotels drop their rates or run different deals and specials depending on the time of year, hoping to lure you there when the weather may not be as perfect. Plus, you don't have to worry about booking your accommodation far in advance because the hotels will probably never get to capacity at an off-season time of year.
3. No crowds. No booking transportation, tours, activities, dinner reservations well in advance when it's not busy. Of course, you still can if you want to! But traveling somewhere when it's crowded gives you more flexibility to decide what you want to do that day, instead of weeks in advance. It also opens up the possibility that you might get a last minute deal for certain activities. Of course, if there are specific things you want to do that might not be offered the entire year, check into that before booking your trip.
4. Less "tourists". Okay, you might think this is the same as "no crowds" and perhaps it is, but typically if you're booking a trip to Europe in the middle of summer, or Brazil over New Year's Eve, your trip is going to be overrun with more tourists than travelers. This means less possibility of someone wandering into that perfect photo you were taking, less noise, and more opportunities to relax and take in whatever scenery is around you.
5. Friendlier locals. The crowds are gone. The "tourists" are gone. The locals can take a step back and relax. They have time to engage in conversation with you, offer to tell you their story, recommend the best restaurant no one knows about around the corner or the tour guide who doesn't have a website but will give you the best tour for half the price tomorrow. These authentic experiences are not always readily available when place is overcrowded during peak season.
6. There's bound to be an adventure. When we were in Antigua, Guatemala, it rained so hard one day that rain was leaking through the ceiling and coming into the restaurant we were having lunch at [side note: the restaurant was located in some ruins so a leaking ceiling could be expected]. It rained so much before we went to that visibility was terrible for scuba-diving. We went to the beach instead and met a lobster fisherman who invited us to a $10 all-you-can eat lobster dinner in Trinidad that night.
Of course, with each trip we've taken during the off-season it could have been worse – hurricanes, snow, rain all day, we know when we've planned some of these trips we're taking a chance, but so far the reward has far outweighed the risk and we'll continue to do so – starting with Belize in just a few weeks (smack dab in the middle of hurricane season).
Where have you traveled off-season that you would recommend?
Comments
comments