After getting our bearings in Cape Town for a couple of days, we took a quick flight to George to explore the other side of the Western (and a small part of the Eastern) Cape.  We (Toby) cautiously drove on the wrong side of the road to Knsyna, a small town we were calling home base for a couple of days of adventures.
Knysna is a sleepy town with not a lot of nightlife, but has some decent restaurants by the harbor with ridiculously cheap bottles of delicious South African wine.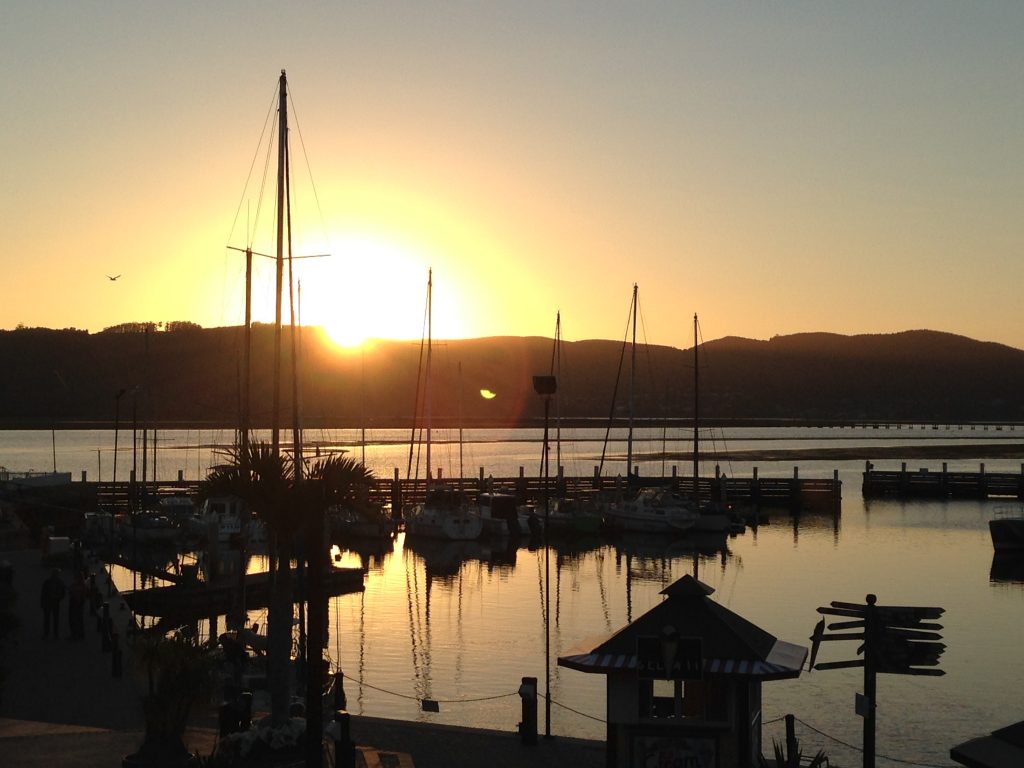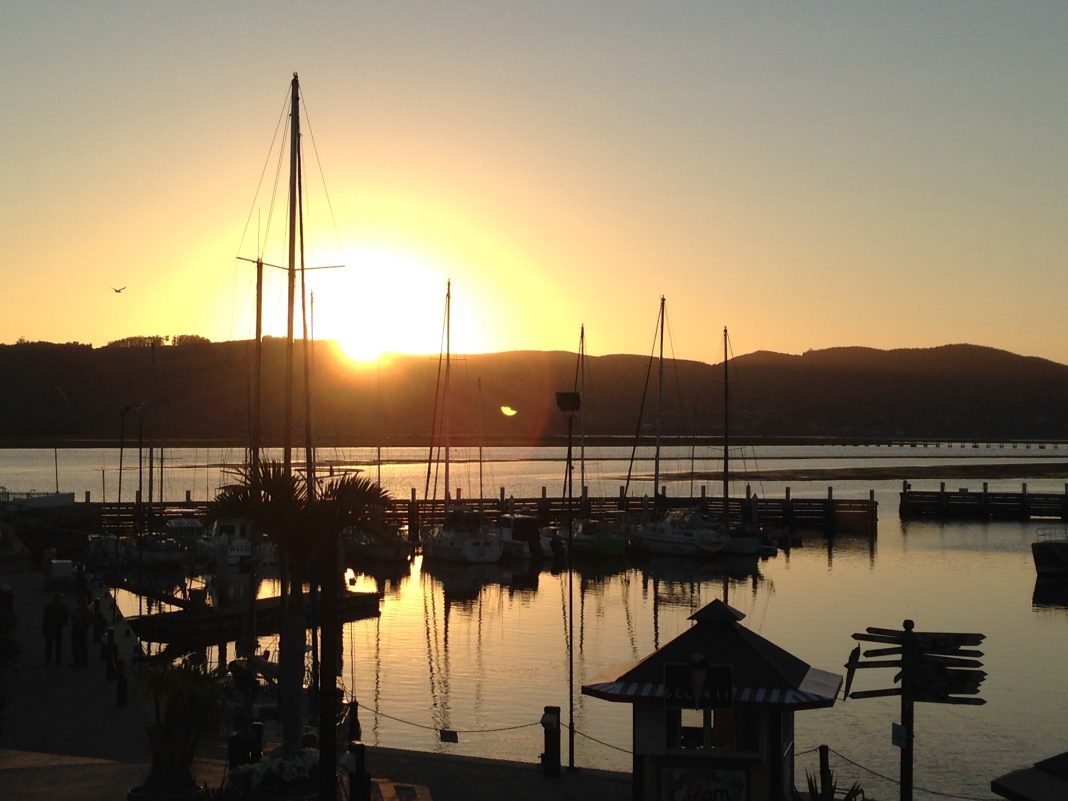 From there we set off on three days of adventures.
Adventure #1 – Bungee Jumping off Bloukrans Bridge
I had been bungee jumping in Bali – at a nightclub, at 2am, off a 60 meter ledge over a pool.  Bloukrans Bridge is 216 meters high.  It's the highest natural bungee jump in the world. I couldn't wait.  Toby, not so much, but he wasn't going to say no to an adventure.  Once we arrived to Face Adrenalin they weighed us, we signed our lives away and then we could watch the jumpers before us from a distance, or up close on a TV screen in the little café.  I felt the anticipation start to build more and more.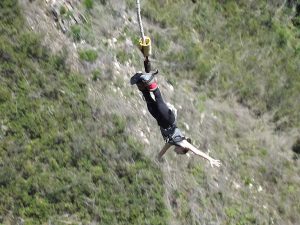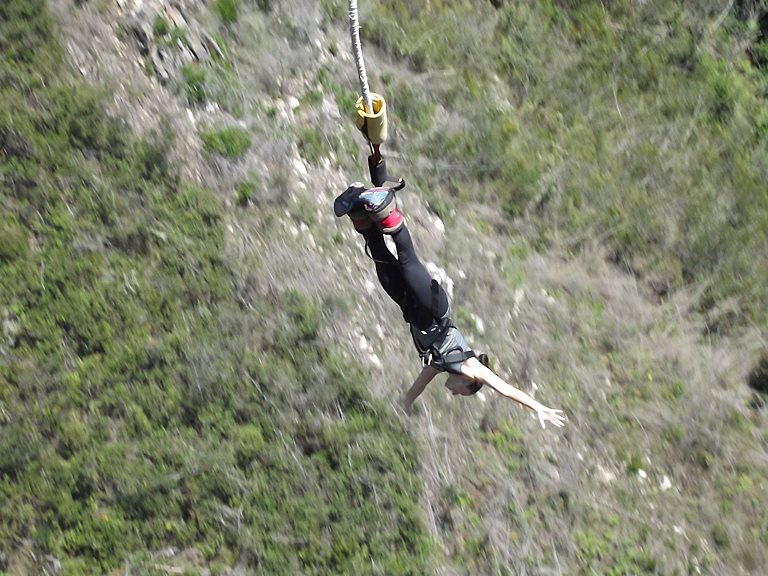 Once it was our turn about 20 of us walked out to the middle of the bridge.  They have music blasting and the staff is awesome.  The jump order went from either heaviest or lightest, alternating between the two until you ended up in the middle of the group.  They asked who wanted to go first.  I hesitated.  The heaviest guy went first which gave me just enough time to really get my heart beating out of my chest.
A few minutes later my ankles were strapped and they were carrying me out to the edge of the ledge.  1, 2, 3…FLY!  It was absolutely incredible (except perhaps the biggest wedgie that occurred as they hoisted me back up to the bridge) and I can't wait to do it again whenever we make it to Queenstown, New Zealand!
Adventure #2 – Oudtshoorn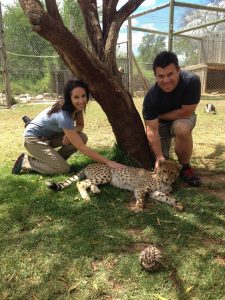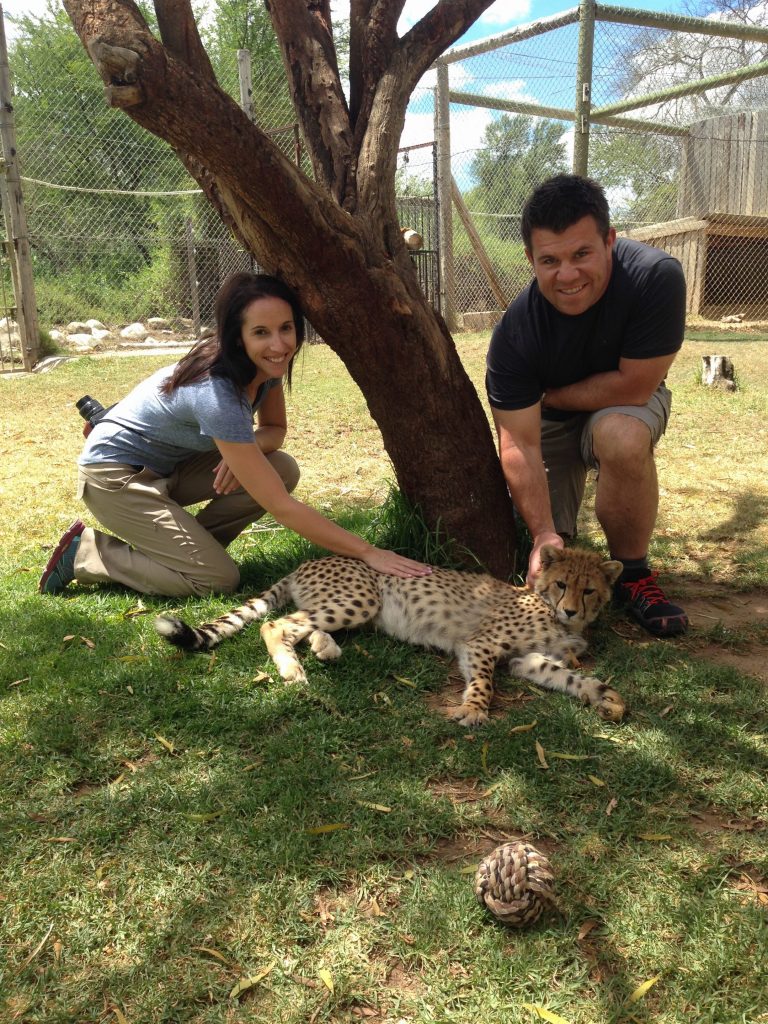 The ostrich capital of the world.  Yup.  That's a thing.  We had heard about this place from Toby's friend whose wedding we would be attending later that week.  When I found out you could actually ride an ostrich it seemed only natural that we make our way there.
Our first stop was actually the Cango Wildlife Ranch where we were able to play with cheetah cubs.  As a lover of all cat-family animals I was in love.  The rest of the ranch was set up like a small zoo – with peacocks, meerkats, crocodiles and turtles as a handful of other animals you could check out along the way.
After our cheetah experience we headed over to the Cango Ostrich Farm where I was able to ride an ostrich.  They blindfold them to make it easier for you to get on, you hold it by the wings and then it takes off around the corral before I was gently dragged off to safety.  To this day I think it is one of the highlights of my trip – for all of my friends and family.
Adventure #3 – Walking with Lions
Before our flight back to Cape Town to kick off wedding festivities, we headed over to Botlierskop Private Game Reserve.  We had been going back and forth on whether it was worth the cost to walk with lions – after doing it, in my opinion, it is 100% worth it.  We ended up being the only ones on the walk with about 6 staff and our guide.  We walked with a younger brother and sister and watched them frolic around the grass, climb trees, and just generally enjoy their walk.  After that it was time for our first game drive, which I'd definitely recommend if you don't have time to make it to Kruger National Park.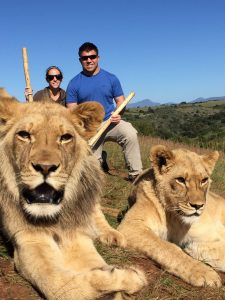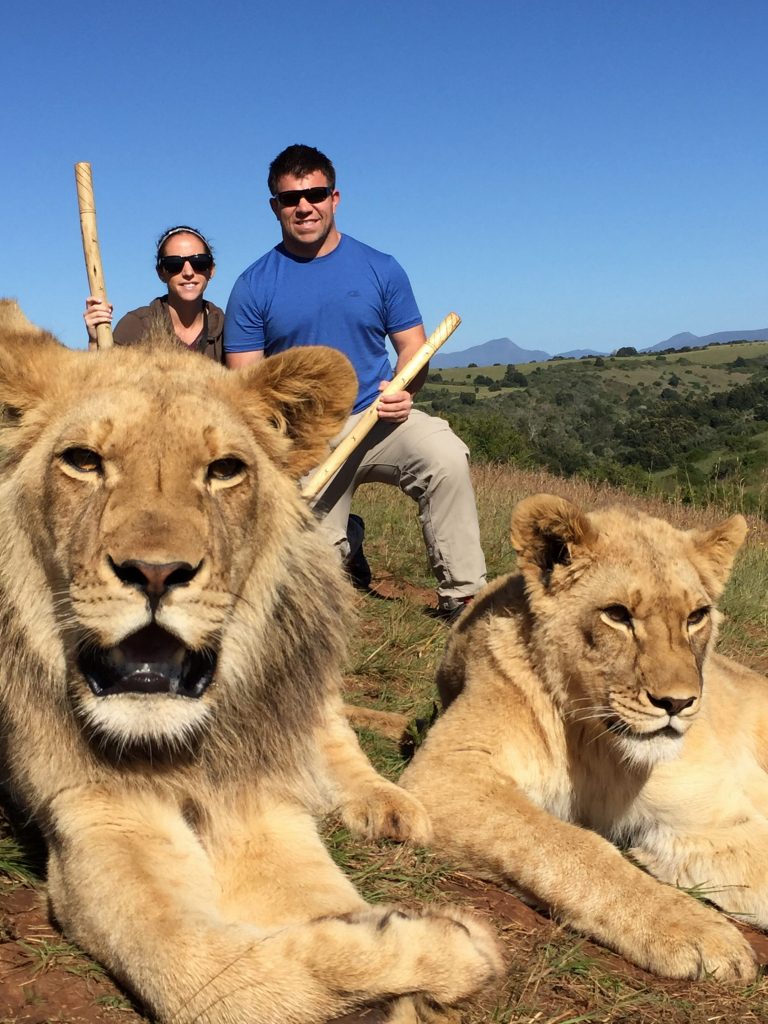 Our time in that part of South Africa was up, but many more adventures awaited us in Week 2 of our journey.